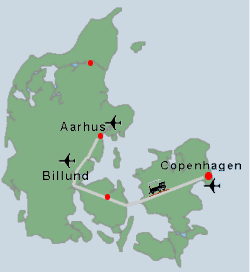 By plane
There are two airports in the area, Aarhus (Tirstrup) and Billund.
Aarhus: There are 5-8 daily flights to/from Copenhagen, 1-2 daily flights to/from London, Stockholm, and Gothenburg. From the airport there is a 45 minute bus ride to the centre of Aarhus, and it costs DKK 115. The bus stops both close to the University (Randersvej v. Nobelparken) and in the centre of the city (see timetable).
Billund: There are several daily flight to/from Copenhagen, Amsterdam, Brussels, Frankfurt, London, Paris, Stockholm, and others (see Destination map). The bus ride into the centre of Aarhus takes 1 hour and 25 minutes and costs DKK 140 (see timetable).
By train
The main train station in Aarhus is in the centre of the city. There is direct, hourly service from Copenhagen Airport (Kastrup) to Aarhus. The train ride takes about 3 hours and costs DKK 388 (one-way). It is a nice journey where you cross one of the longest suspension bridges in the world - connecting the islands Sealand and Funen. For more information about train services within Denmark, click on the DSB journey planner. If possible, it is recommended to buy a seat.
By car
Aarhus has direct connections to the European network of motorways, making it easy to get to and from most European cities. Hamburg can be reached within roughly four hours. There are also excellent roads to most places in Denmark.

Local buses
The busses are numbered on the front and on the back. Opposite the main entrance of the train station you will find bus 16, direction 'Hasle/Haslegårdsvej' (The direction of the bus is given above the front window and above the rear door). Get off at the stop 'Universitetet/Kemisk Institut'. It is also possible to go by bus 2A, direction 'Aarhus Universitets Hospital, Skejby' or bus 13, direction 'Frydenlund/Fuglebakkevej' and get off at the first stop on Paludan Müllersvej (Paludan Müllersvej, Langelandsgade and Kaserneboulevarden are announced as 'Kaserneboulevarden'). From here it is only a short walk by "Langelandsgade" to the Department of Physics and Astronomy.
The Department is housed in the buildings marked in red in the diagram below.